RENTAL EQUIPMENT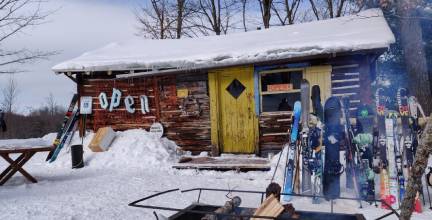 No need to bring your own setup! Whitecap Mountains Resort supplies everything you need to hit the slopes. Whether you ski or snowboard, you'll find all of the equipment you need in our rental shop, which is located in the resort village. Along with standard Elan skis and snowboards, high-performance rentals are also available. Our rental selection accommodates all ages and abilities. To get more information on equipment rentals at Whitecap Mountain, contact us or call us at 715-561-2227. Thank you!
Skis Package
$75.00 / Day
Helmet Rental
$15.00 / Day
Ski & Snowboard Gear Tips
Being underdressed or having gear that doesn't fit properly can quickly ruin an otherwise perfect day on the slopes. Put your best ski (or snowboard) boot forward with our tips below!
Need assistance with your gear? Ask for help in the ski rental shop, or find a Whitecap employee. We'll be happy to help!
What to wear for skiing or snowboarding?
Wondering what to pack for your ski or snowboarding trip? You can rent ski and snowboard equipment at Whitecap, but you'll want to make sure you bring the proper clothing and outerwear. Here are the basic items you should pack to keep yourself warm and protected on the mountains:
Long underwear
Fleece or wool tops
Ski or snowboard socks
Water-resistant winter jacket
Ski/snowboard pants or bib snow pants
Water-resistant gloves or mittens
Helmet
Goggles
Neck gaiter or scarf
Ski and snowboard clothing are not dramatically different. Traditional skiwear is designed to be sleek, while snowboard clothing has a looser fit. Skiwear will work fine for snowboarding and vice versa.
How ski boots should fit?
If your ski boots are causing you a lot of pain, it's likely that they are too big or too small. When your boots are too big or too small, your feet slip and slide around, which leads to bruised toes and blisters. A proper-fitting, yet still tight, boot will move with your foot and reduce any rubbing, bruises, or blisters.
Regardless of your skill set, your ski boots should fit as snug as possible before you head out, because they're only going to get bigger and looser with wear. Here's how to achieve a snug fit:
The liner—without the shell—should hug your foot and leave your toes just enough wiggle room.
The shell—without the liner—should be just large enough to accommodate your bare foot, plus two fingers. While standing up, push your toes forward until they just touch the front of the shell. You should have barely enough space to place two fingers between your heel and the back of the boot for a comfortable fit. If you're going for performance, you should have barely enough space for one finger between your heel and the back of the boot.
When you put your boot on (unbuckled), it should already feel pretty tight, with no room for your foot to move forward, backward, or sideways. Your ankle should be aligned with the boot's heel.
Once you've buckled up your boot, it should feel like your foot is firmly in place—not cramped. You should not feel any painful pressure. If you do, let your boot fitter know where it hurts.
Once your boots feel comfortable, stand up to flex your ankles and bend your knees. Your boots should flex with you, and you should not be able to lift your heel out of the heel cup. It's important to note that ski boots should feel somewhat uncomfortable when you're standing straight up, as this is not a natural skiing position.
How to put on and fit snowboard boots?
Before putting on your snowboard boots, make sure your socks are clean and dry.
Pull the liner tongue forward and loosen all the lacing systems to open up your boot.
Slide your foot all the way in and set your heel in the pocket.
Make sure the liner is tucked in and start lacing up. Start by tightening the inner laces first. The liner should be snug and hugging your shin.
How you fasten your laces depends on the lacing system you have (traditional, quick-pull, or BOA system). As you lace up the outer shell, your boot should feel snug but not so tight that it cuts off the circulation to your feet.
Stand up and flex your ankles, and tighten the laces more as needed. You know you have a good fit when your ankles and heels are held firmly in place and you can't wiggle or curl your toes much at all. You shouldn't feel any pressure points.
How to choose the right length ski poles?
Since 1966, Whitecap Mountains Resort has been a go-to destination for generations of families who want the big ski resort experience without having to leave the midwest. Whitecap is truly the closest you'll get to skiing out West, right here in northern Wisconsin! We offer equipment rentals for all ages and abilities, including kids ski rentals! Contact us for more information.

Feeling a bit rusty? Check out our ski and snowboard lessons!